Every event planner knows that audiovisual rental isn't just cost-effective; it also elevates guest experience. So whether you're a newbie or a veteran planner, quality equipment rental for events should be at the top of your list.
In this post, we'll discuss how rental equipment for events can make a big difference in its success. See how you can also make your next event shine with these ideas!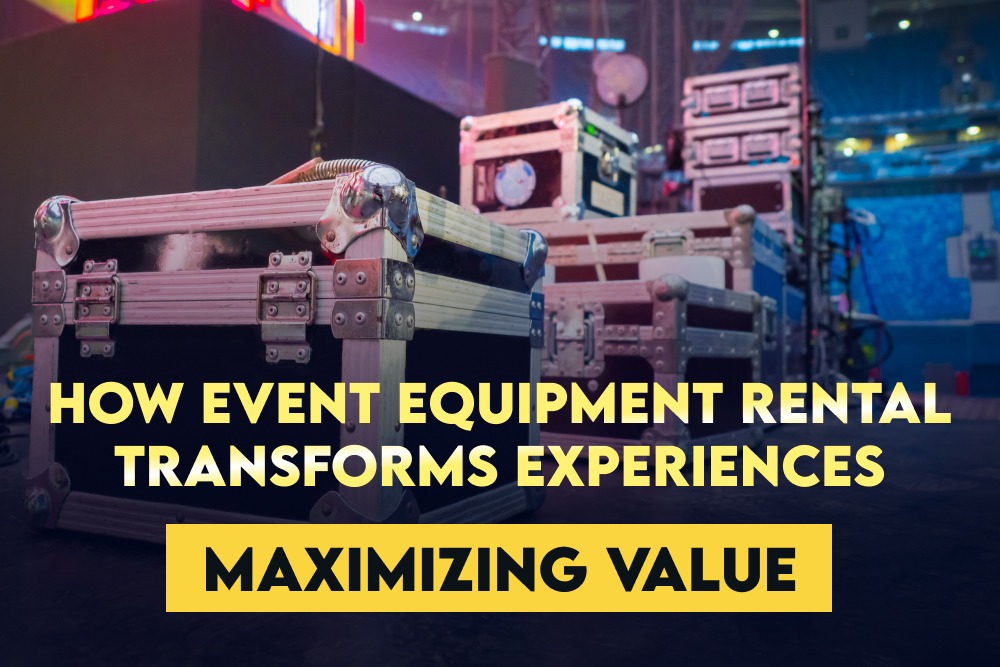 The impact of event equipment rentals
Many event planners allocate a big budget on equipment for events to make their production stand out. Here are more reasons why you should too:
1. Making your audience go "wow"
As they say, first impressions last – more so in the event industry. There's no better way to do that than to captivate your audience with stunning visuals, concert-quality audio, and unique displays.
Instead of buying your own equipment, renting will give you access to a wide range of cutting-edge AV technology. For example, you can showcase a giant LED screen rental as a stage backdrop instead of the usual printed banners.
You can also pair it with lighting rental and special effects to create a breathtaking ambiance at your venue. And if your budget allows, you can also opt for full AV production services to maximize the wow factor of your event.
With full AV production, you can transform any venue into an extraordinary space. At Rent For Event, no venue is too big or too small – our team can turn it into a spectacular showcase.
Want a sneak peek? See our team in action as they transform the House of BET at Goya Studios Hollywood for the BET Awards 2023!
2. Uninterrupted listening and viewing experience
Nothing spoils the audience's excitement more than a malfunctioning sound system and visuals. It's also a big nightmare for event planners, especially on high-stakes events like product launches, presentations, and corporate meetings.
Overall, poor audio quality, visual distractions, and technical glitches will reduce your audience's engagement. Worse, they may get frustrated and leave the venue even before the event is finished.
But with complete event planning supplies and equipment, you can avoid these glitches. For example, audio rental companies always have a backup in case technical problems arise. This way, they can solve the issue even before it negatively impacts your guests' experience.
Whether you're hosting a large-scale commercial event or a private celebration, you should never skimp on the quality of your rentals. You should also ask the right questions when renting your event equipment to ensure the best experience for your guests.
3. Creating unique experiences
Thanks to the diverse equipment options, you can easily create unique event experiences that your attendees haven't seen before. This will maximize your event audiovisual impact for the total success of your production.
Don't hesitate to explore the latest event technologies like interactive displays, projection mapping, virtual reality, and wearable tech to engage your audience even more. Instead of boring them in their seats, you can utilize these equipment rentals to make the event more memorable for everyone. It will also give your brand or company a boost.
Aside from a complete event equipment list, it's important that you choose an AV company that can bring your vision to life. Always remember that a great set of equipment is of no use if you don't have the right people to operate them.
4. Ensuring expert execution
With AV equipment rental, you no longer have to second-guess about execution. You'll have an entire team of audiovisual experts who will run your event and impress your guests with an immersive production.
While you handle other event matters, a team like Rent For Event will assess your event space requirements, audiovisual needs, and its entire planning. You'll even get a 3D rendering of the setup to see what will happen on the big day, ensuring the best delivery for your audience.
Aside from that, you can focus on improving the event experience instead of dealing with the equipment's logistics. Our AV rental team can handle everything for you – including delivery, set up, operation, tear down, and pick up of all the equipment.
With 20+ years of combined event experience on our sleeves, we guarantee the best execution of your event ideas.
5. Clear and hassle-free communication
The last thing you want during an event is a confused and frustrated crowd. You can easily avoid this with the help of reliable equipment rental and a professional AV team.
For example, you can get high-quality PA systems for announcements and reminders during the event. You can get a complete set of microphones, intercom systems, audio distribution setups, and more.
If you're hosting a conference, you can also book projector and screen rentals to display the highlights of the presentations. This way, everyone can easily keep up with the program at any point during the event.
The same goes if you're planning a private event like weddings, birthdays, or bar/bat mitzvahs. You'd want to ensure that everyone feels included in the celebration. Otherwise, they may get bored and have a bad impression of your event.
6. Show-ready quality every time
With the right rental supplies for events, you can deliver an impressive production. This is made possible by well-maintained equipment that undergoes intensive quality control.
Compared to buying your own equipment, rentals allow you to access professional-grade equipment for a very competitive cost. Also, each piece of equipment is expertly maintained and stored to ensure its performance during your event.
Aside from that, rental companies provide seamless integration between your audio and visual equipment. You'll have peace of mind that your entire AV system is working without a hitch.
And in case problems arise, there would be backups ready. Your audience will enjoy a show-quality experience without dealing with disruptions or delays due to glitches.
On top of that, you can bring all these latest technologies to your event at a fraction of the cost of buying them. This way, you can create unforgettable moments without the burden of the hefty cost, maintenance, and storage.
7. Available for any event
Whether you need wedding, birthday, or corporate event supplies, there are rental options you can explore. Everything can be customized based on your event's needs and the preferences of your audience.
Also, it doesn't matter if you're planning a small or big occasion – event equipment rentals will surely make a big difference. Aside from their aesthetic value, these rentals also enhance the message of your brand or event.
These are all big advantages for your event planning business as the industry gets more and more competitive.
Also, rental companies continuously upgrade their equipment to keep up with the demands of every event. This means there's no limit to the ideas you can integrate into your upcoming event. Instead of settling on old setups, you can level up with the latest equipment rental.
Here are more reasons why event planners choose equipment rentals…
Still not convinced about renting event equipment? Well, here's what you're missing out:
Big savings. By renting your event equipment, you can save thousands of dollars on upgrades, maintenance, and storage. Take note that even big names like Netflix, BET TV, and CBS rent their AV equipment from us!
Streamlined event planning. Equipment rentals simplify your planning process by outsourcing a big chunk of the task to experts. You'll have a complete package – all you have to do is open the gates to your venue.
Easily scalable. Doyou need equipment for a small private dinner? How about an international conference? AV rental companies like Rent For Event got you covered. Since we specialize in full AV production, we have a massive inventory of equipment ready for you to book.
Easier risk management. Don't let technical problems cloud the objective of your event. With a dedicated team, you don't have to worry about dealing with glitches. You and your audience can enjoy the event while our team works in the background.
Endless customization. Whatever AV equipment style, size, and features you need, our team can provide it for you. We can customize everything to make sure that your guests will leave the venue impressed.
Focus on attendee experience. Leave the technical work to us while you focus on improving other aspects of your event. You can dedicate your time to creating more interactive activities or curating engaging content to be shown at the venue.
Ready to host an unforgettable event?
Are you tired of the same, dull events? Let Rent For Event transform your audience's experiences with world-class event rentals. Our team has all your AV needs covered – from audio, video, lighting, staging, tech, and more!
Your event will get a customized setup, so it stands out from the competition. And with an on-site team to oversee everything, you'll enjoy a fail-safe event every single time.
Aside from quality equipment, you'll also get an on-site team to handle everything from delivery to pick up. With us, you literally don't have to lift a finger for your event's AV systems. Because at Rent For Event, we deliver nothing but performance.
Contact us today and let's talk about your event!