Whether it's a conference, seminar, or product launch, walk-on songs for corporate events matter. Still, your choice of music should match the tone and mood you want to set.
In this post, we listed 15 popular walk-on songs that you can consider for your next corporate gathering. See which beat or tempo creates the biggest entrance.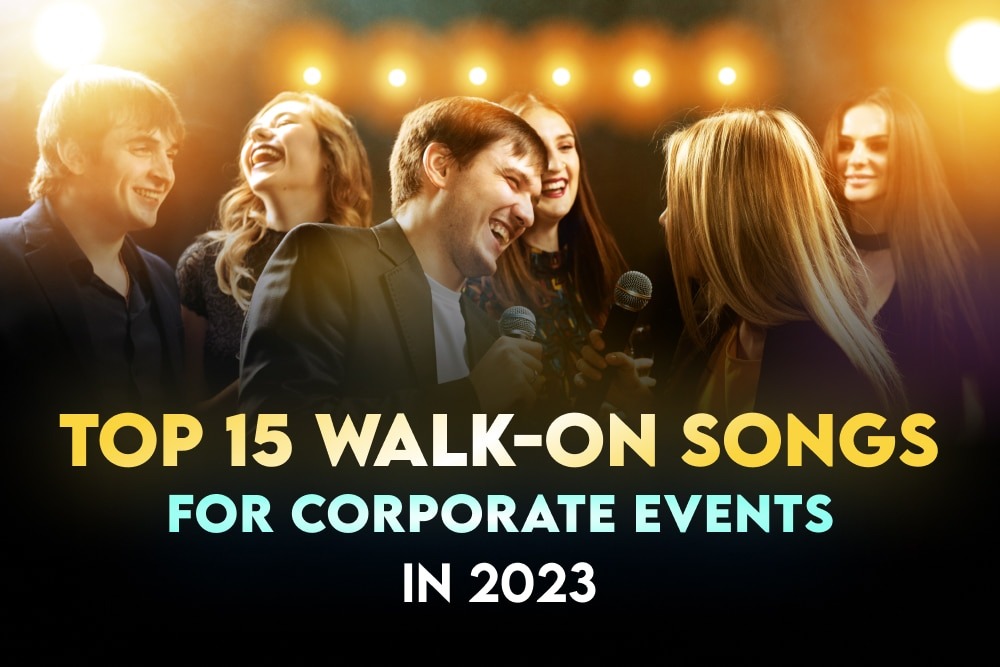 Walk-on or entrance songs are musical pieces played as speakers or special guests walk up to the stage. It sets the mood for the event and eliminates dead air that could bore the audience.
While walk-on songs are common for awards ceremonies, parties, and other informal events, it's also a good idea for corporate gatherings.
With excellent lighting, staging, and sound system, walk-on songs will set the right energy for every speaker.
However, event planners must secure a license before they can play any of this music to avoid legal problems.
15 Best Walk-On Songs For Corporate Events
1. Ain't No Mountain High Enough - Marvin Gaye & Tammi Terrell
This classic is sure to get everyone's feet tapping. It's probably one of the most recognizable tunes and a favorite among corporate event organizers. A big hit from Marvin Gaye and Tammi Terrell, 'Ain't No Mountain High Enough' gives a nice groove to any event.
2. Can't Stop The Feeling - Justin Timberlake
If you have a younger audience, 'Can't Stop The Feeling' will be an effective energizer as someone walks up to the stage. Aside from being your walk-on song, you can also use this to open a conference, trade show, or seminar to set an enthusiastic mood.
This song has been used for the Oscars 2017 opening performance, so it's a tried and tested tune.
3. September - Earth, Wind, & Fire
Do you want to stick to the classics? If so, Earth, Wind & Fire's 'September' would be a great pick. It's a timeless song used as background music, a walk-on song, and a closing tune for countless events.
It's a groovy entrance song from start to finish. Before you know it, your guests and even your speakers will be bobbing their heads to this '70s bop.
4. 24k Magic - Bruno Mars
This Bruno Mars smash hit will give your speaker a worthy entrance. The song has slapping bass, though you may want to pick the right portion to play to avoid the expletives.
'24k Magic' would be perfect for less formal corporate events, like dinners, parties, or year-enders. If your corporate event has an after-party, this song should be on your DJ's playlist.
5. Uptown Funk - Mark Ronson ft. Bruno Mars
Another funky walk-on song you can consider is Mark Ronson and Bruno Mars 'Uptown Funk'. This big hit shares the same groovy vibe as '24k Magic', with the intro making an excellent mood-setter for informal corporate events.
We've worked in countless events, and we can say that Uptown Funk is a top favorite among event planners.
6. Get Lucky - Daft Punk ft. Pharell
The upbeat electronic backing of Daft Punk's 'Get Lucky' lends the right tempo for a walk-on song. It's also a favorite background music for conferences and seminars.
This song will surely add life to your corporate event without being too overwhelming to the ears. Just ensure that you have the
best audio equipment rental
because you wouldn't want to miss the awesome bassline on this track.
While La Roux's 'Bulletproof' has a breakup theme, its backtrack is quite irresistible as a walk-on song. It has a futuristic vibe, which you can use at your corporate event's after-party.
Its catchy beat will surely hook your audience while speakers or guests walk up to the stage.
8. Happy - Pharrell Williams
Need we say more? Pharrell William's 2013 hit 'Happy' has been played in hundreds – if not thousands – of events we've worked on. It's the ultimate hype tune, whether as a walk-on song or background music.
This song can quickly light up an entire room, whether you're hosting a formal or informal corporate event.
9. Walking on Sunshine - Katrina and the Waves
Your special guests will walk on sunshine with this song. It has an upbeat and refreshing chorus that will make the entire room feel good.
This 1983 hit gives justice to timeless new wave and pop rock genres. And if you have a middle-aged audience, this song will be a smart choice.
10. Give It Up - KC & The Sunshine Band
'Give It Up' by KC & The Sunshine Band is one of those songs you know but don't know the title of. It's because you probably heard it from various events countless times!
This song has a catchy rhythm and melody that can make the entire room groove. It also has the right tempo for the speakers to walk through.
11. You Are The Best Thing - Ray LaMontagne
Like the Earth, Wind & Fire song, Ray LaMontagne's 'You Are The Best Thing' is a timeless tune. Its intro has a beautiful combination of trumpet, trombone, and saxophone, perfect for a triumphant entrance.
Its lyrics, "you are the best thing" are also fit for an introduction for a speaker or special guest.
12. A Sky Full of Stars - Coldplay
For formal corporate events, Coldplay's 'A Sky Full of Stars' will be a sophisticated walk-on song. It has a striking introduction, and the song builds up nicely for a grand entrance.
This song is also great background music for almost any event. You can also play this while waiting for guests to arrive or while everyone leaves the venue after the event.
13. Move Your Feet - Junior Senior
'Move Your Feet' is a feel-good song with funky and groovy backing. Its lyrics, "Everybody, move your feet and feel united" is also a good message for an event.
This bop is also popular for fashion shows and dance parties, thanks to its lively beat. It's a happy track from start to finish.
14. Can't Hold Us - Macklemore & Ryan Lewis
Do you want a cool and badass walk-on song for your corporate event? 'Can't Hold Us' is probably the best choice for this.
This song will make your audience groove as someone walks to the stage. It also has uplifting lyrics and invigorating rap bars that could fill long dead air periods.
15. I AM WOMAN - Emmy Meli
If you're introducing a woman or hosting a women empowerment event, this is probably the perfect walk-on song. Emmy Meli's I AM WOMAN both have a captivating beat and inspirational lyrics that suit a grand entrance.
This song became viral on TikTok, making it easily recognizable, especially among young audience members.
Get a professional sound system for your walk-on songs!
You can pick the best entrance song for your corporate event, but it's not complete without the right audio equipment.
Let
Rent For Event
help you by providing concert-quality audio equipment rentals. Rest assured that all your guests will be tapping their feet to your music as your speakers walk up to the stage.
Our sound engineers will be on-site to ensure a fail-safe audio experience. We also provide delivery, installation, operation, tear down, and pick up for all sound rentals.
Contact us
anytime for your audio equipment needs – we deliver 24/7 for any event nationwide.