Are you scouting an event venue for the first time? To avoid ending up with a fixer-upper, you should know what to look for – both good and bad – before you start doing site visits.
Here, we'll guide you through the 10 things to should consider when arranging an event rental. Keep reading, so you don't get ripped off!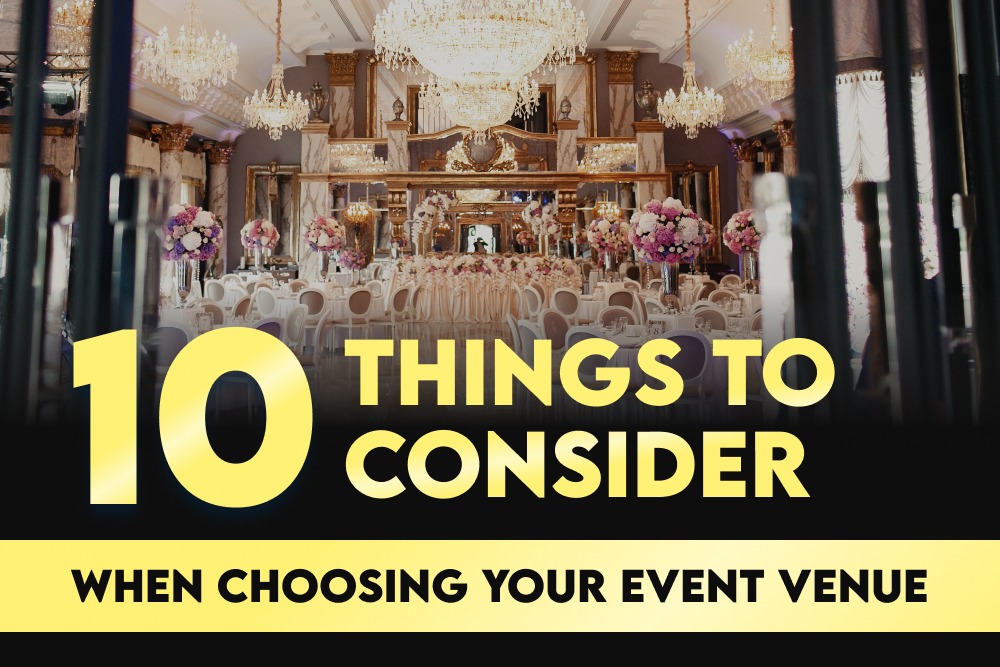 10 Considerations For Your Next Event Venue
Whether you're hosting a big conference or throwing a birthday bash, your choice of venue will make a big difference in the success of the event. So before you make the final decision, you should check the following first:
1. Event type
First, you need to assess your event space requirements. This alone will narrow down your venue options by a big notch while giving you an idea about how much your budget should be.
If you're hosting a conference, you need a venue with a large hall to accommodate a large seating crowd. Meanwhile, private events like weddings or birthdays often call for a venue with a picture-worthy outdoor space.
Also, by considering your event type, you can tick other items on your planning checklist. This includes whether the venue has in-house AV equipment, decorations, security, and so on.
Always remember that every event has unique requirements and you should choose the venue around it.
2. Venue location
Location is everything when choosing your event venue. After all, a stunning venue is no use if your attendees get caught in heavy traffic or find it hard to reach its spot.
If you're hosting a local event, look for a venue near an airport, train station, bus station, and major roads. This way, it will be more convenient for your guests to attend the event.
If possible, you should also pick an event venue near hotels, especially if it's a multi-day affair. You should also provide maps or directions so attendees can conveniently navigate your venue's location.
Take note that an ideal location for an event can attract more attendees. It's up to you to use it to your advantage.
3. Venue capacity
Next, ask the venue about their minimum and maximum capacity. You must be specific whether it's seating or standing capacity, which is based on the type of event you're hosting.
Also, don't force a venue to go beyond its maximum capacity. You should remember that they have to abide by fire and safety codes to prevent potential penalties. Besides, it's always best to have a capacity allowance in case your event is going to be open for walk-ins.
In case the venue allows you to go over their recommended capacity, you should inquire if there are additional fees. And while you're at it, you should also ask about the venue's accessibility to ensure that your guests with special needs will not be compromised.
4. Parking space
It's every event planner's dream to find a venue with a massive parking space. Aside from accommodating guests' vehicles, it will also make it easier for vendors to bring in their trucks and set up equipment.
However, the lack of parking space shouldn't discourage you from booking such a good venue. Although the venue itself doesn't have the needed space, you can still look for nearby parking lots that you can reserve for guests.
If ever you plan to reserve a parking space, make sure that you inform your guests of its location and directions. You can also consider providing a valet if the event budget allows.
5. Layout and acoustics
If possible, you should ask for event venue building plans from the locations you're going to contact. This way, you can check the layout of the place, which is crucial in planning the event's audiovisual setup.
Overall, you'd want to have a rough idea of the venue's floor plan, where equipment can be placed, and what needs to be modified. This is crucial whether you have a large or small event space design.
Also, the venue's layout will tell you a lot about the acoustics of the place. For example, a high-ceiling venue may look regal, but it will also increase the echo or reverb of your audio.
Still, this issue shouldn't be a make-or-break factor when picking your event's venue. After all, you can always partner with an audio rental company to fine-tune the sound system of your event.
6. Amenities and services
Aside from parking space, another way to ensure your guests' convenience is to find a venue with good amenities.
For example, if your attendees have mobility issues, you can look for venues with ramps, accessible restrooms, ramps, and other similar features.
Also, if you plan to serve food to your guests, you should check if the venue has a dedicated food and beverage area.
Above all, don't forget to check the basics like the number of comfort rooms and their location on the venue. You should also inquire where the fire exits and first aid stations are.
7. Venue restrictions
For many event planners, venue restrictions are often a make-or-break part. For example, the venue may prohibit third-party lighting rental companies from providing equipment in their space. In these cases, the venue has an exclusive vendor that event planners are required to hire should they book the place.
Also, you should be aware of noise restrictions, especially if your preferred venue is located in a busy district. Most of the time, noise restrictions apply to events that will be held at night. You'll need to install sound limiters or reduce the volume levels of your sound system to solve this issue.
Another venue restriction you should check is their allowable ingress/egress. This way, you won't be surprised by extra fees should your vendors take longer to set up or tear down everything.
8. Date flexibility
Before you get fully invested in booking a venue, make sure that they have open dates, ideally the schedule you prefer.
One of the best practices on how to find venues for events is to pick 2 to 3 date options. From there, you can inquire if the venue has those days open. Take note that scouting for a venue for just one specific date can be challenging, especially if you're planning during the peak season.
Aside from that, you're likely to land a nice discount if you're flexible with the event date since it will allow venues to fill their calendar.
9. Safety
Knowing how to find a venue for an event doesn't stop once you tick all the items above. You also have to consider one more thing: the venue's safety.
After all, there's no use having all the knowledge on how to put an event together if you can't guarantee your guests' safety.
For this, you should research the venue's location to see its reputation. Are there too many crimes happening in the area? Was there any incident in the venue that could be a major concern for your guests? You should answer all these before making your final decision.
Aside from that, make sure that you cover the basics like asking about their premises license, fire marshal permit, business permit, and so on. You should also conduct a site visit to see the overall cleanliness and condition of the place.
10. Rental fees
This checklist will not be complete without considering the venue's rental fees. If you're planning an event on a tight budget, cost might be your number one consideration when picking a place to book.
Most event venues charge per hour, but they don't usually post their rates. With this, you should call the venue to ask for an estimate.
And speaking of estimates, we suggest that you ask this from at least 3 to 4 venues to see which suits your budget and event needs best. Don't hesitate to negotiate your venue fees to save money on your event.
Aside from their per-hour fees, you should also ask if the venue will charge you for other rentals in case they have vendor exclusives. For example, they might have LED rental or projector rental partners where you can get good offers.
Overall, you should remember that bigger venues demand bigger budgets. So before you look for options, set a specific budget, so you can weed out venues you can't afford.
Get the best event production for any venue!
Wherever you're hosting an event, Rent For Event is ready to give you the best AV production services. Our team can customize your audiovisual setup for any venue – big or small. We're fully equipped to overcome major venue problems like poor acoustics, poor connectivity, or inaccessible rigging points.
Finding a venue that fits your needs is overwhelming enough. So instead of stressing over the technicalities of your event's audio and visual elements, you can leave it to our expert team.
With us, you can make any venue shine with world-class audio and visual solutions. Also, our AV production is trusted by big names like Netflix, CBS, BET TV, and TikTok. Rest assured that your events are in good hands!