Projectors and screens come hand in hand. It ensures excellent image quality and a comfortable viewing experience for your guests. But what if you don't have a screen? Which is better to use, a projector screen vs. wall?
In this blog post, we will compare these two options, the results you're going to get, and which is better. While both works, there are significant differences in terms of visual quality. Read on to see which works best for your upcoming event!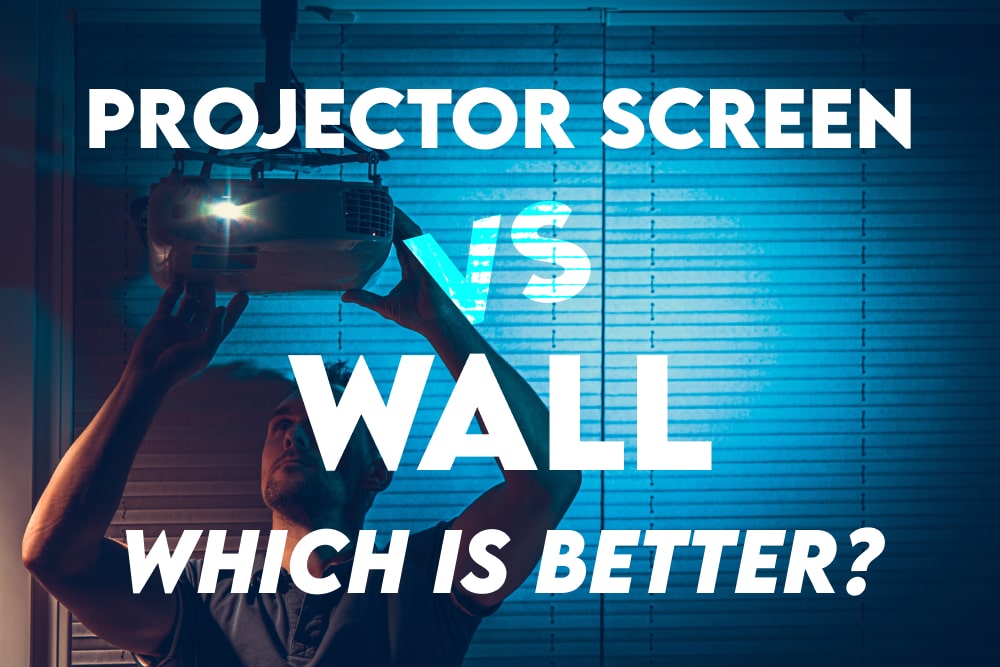 Projecting on a wall vs screen
In general, projecting on a wall and a screen works o some extent. However, the results you will get will vary and may not always provide the best viewing experience.
To help you out, below is a quick rundown of the two options: 
The first thing you must consider when projecting onto a wall is its texture. Painted walls are not as smooth as dedicated projector screens. Also, not all walls are flat, which will negatively impact the accuracy of the image.
Also, you have to consider the material for wall projection. Drywall has a smoother surface, while brick and stone have rougher textures, which don't reflect the light of projectors well.
Walls with light switches and other fixtures are also not the best pick for projection. Unless it's only for casual use at home, you're better off getting a projector and screen rental instead.
Projectors require a reflective surface to produce a crisp and bright image. In some cases, a projector on a white wall is enough to produce a decent result.
However, walls can have varying finishes and shades. This will impact the vibrancy of the image being projected, making it a hit-and-miss choice.
But if you're keen to stick to wall projection, you should know that some colors are better than others. The whiter the wall color is, the better for image quality. Any other color will negatively impact the quality of the content you're showing.
If you're hosting an event and you want a clear display, it's best to get a projector screen. Unlike bare walls, projector screens have a specialized coating designed to be matte and neutral. This reduces color distortion and maximizes reflection for the image being shown.
Nevertheless, projectors can also come in handy in transforming boring walls into colorful surfaces. Technologies like projection mapping can be used to display various visual content, including animations, colorful murals, images, etc. 
One big concern when you project on a wall vs a screen is its portability. Unlike fixed walls, you can easily move screens anywhere in your venue. There's no need for your audience to adjust their view or for your team to change the seating arrangement.
Meanwhile, others will improvise using a homemade screen for projector use. This works better than a wall, but the material may not provide the best results.
Also, if you're hosting events in various venues, screens would be better since they can be transported anywhere. 
While shining a projector on a wall can work for some, the biggest challenge is setting the right image settings. There's no frame or edges to focus on when adjusting the quality of your display. Walls are technically borderless screens, which are trickier to set up.
However, if you intend to use a surface as your permanent 'projector wall', you can draw an outline on it to help when focusing the display.
You can even go as far as using projection paint. This type of paint can be applied on walls to create a smooth and reflective surface for projectors. It's also an excellent alternative for screens but not a convenient solution, especially if you're hosting events in different venues. 
When it comes to painted wall vs projector screen, you have to consider the lighting conditions. Since walls can't be moved, those with more ambient lighting won't make good surfaces for projection.
Meanwhile, a portable projector screen will let you choose the best spot in your venue with the least ambient light. It also offers flexibility based on the display you want to achieve.
So if you're aiming for versatility, a screen would serve you better. Nevertheless, if you can control the venue's lighting, there's no problem using a wall as well. 
As for application, projector screen vs white wall may not actually be a big deal.
For example, a white wall in your home would be a good choice if you're hosting a casual movie screening with friends and family. The same goes if you're using your projector for gaming and other personal applications.
However, professional uses may need actual projector screens. This is much so for corporate presentations, awarding ceremonies, and formal events.
Also, a wall may only be suitable for certain types of content. Media with heavy graphics may require a professional-quality screen to give the audience the best viewing experience. 
Why should you get a projector screen instead?
While a blank wall works for some, there are more advantages to using an actual projector screens. Here are some of them:
Less guesswork. Projector screens are designed to reflect light efficiently, ensuring excellent visibility among your guests. Also, it's easier to focus the image on a dedicated screen instead of a large wall without any edges.
Guaranteed image quality. Projector screens are smooth and more reflective than typical walls. Also, it doesn't have imperfections that may get in the way of the viewing experience. As long as the ambient lighting is controlled, you won't worry about the quality of the display.
Specialized screen coating. Unlike bare walls, projector screens have a special coating to make the images sharp and bright. This means your audience will appreciate the quality of the content you're showing.
Available in various sizes. You can get projector screens in various sizes ranging from the usual 77 inches to 330 inches diagonally.  If you're hosting an outdoor event and need a bigger screen, you can opt for an inflatable type as large as 40 feet x 20 feet.
Can be used outdoors. Lastly, you can take projector screens outdoors. You can choose any spot where you want to set up the screen instead of looking for a clear wall.
Better audience impact. Projector screens are designed for optimal viewing, which means it will engage your audience more compared to projection on a wall. This will make your messaging more effective.
Tips when using a projector screen
To make the most out of your projector screen, you should keep the following tips in mind: 
Get the right screen size. Make sure that the screen matches your audience size. In general, bigger audiences and larger venues require equally sizeable screens. This way, your audience will be comfortable viewing your content wherever they are seated.
Manage the ambient lighting. Projector screens are only as good as the darkness in the room. It's crucial to control lighting to ensure the best viewing experience. You can use blackout curtains or blinds to block external light sources. For outdoor venues, nighttime is always the best schedule to use a projector and screen.
Consider a screen with a higher gain. If your venue is still too bright for a standard projector screen, consider getting one with a higher gain. This means the screen will reflect more light, allowing the content to be seen even in a brighter environment. However, you should also note that screens with higher gains have narrower viewing angles.
Position it properly. Make sure that your projector screen is positioned at the correct distance and angle from your audience. Also, pay attention to the height and angle of the screen to achieve the best image quality.
Mind the aspect ratio. Aside from the quality of the screen, you should also check the aspect ratio of the content you want to show. Make sure that the screen's size and shape match the aspect ratio; otherwise, there will be black bars on the edges. This is important regardless of whether you're using a projector on screen vs wall.
Consider using multiple screens at once. If you're presenting in a massive venue, consider installing multiple projector screens in different spots. This way, the entire audience will clearly see the content you're showing.
Get professional-quality projector screens for any use!
If you want to give your audience the best viewing experience, you should consider getting professional-quality projector screens. Here at Rent For Event, we can provide you with screens of various sizes to suit your needs.
Not just that: we also provide projector rentals for a complete setup! Our team will handle the delivery, installation, operation, teardown, and pickup. This means you'll get professional displays without worrying about the technical aspect.
In addition, all our projector screens are well-maintained, spotless, and ready for your next presentation. We maintain each piece of equipment regularly to ensure the best visual quality.
Call us today to get a free estimate for your rental! We also accept last-minute bookings if your current setup doesn't deliver the expected results.