After countless homework, projects, and school requirements, every student deserves a memorable graduation ceremony. Over the years, graduation ceremony ideas have departed from traditional and formal setups. Many schools are hosting unique ceremonies that utilize modern technologies like LED screens, projectors, and inflatable screens.
If you're an event planner tasked with creating an amazing graduation experience, you're at the right post. Below, we shared some outdoor graduation ideas that will truly make the tassel worth the hassle.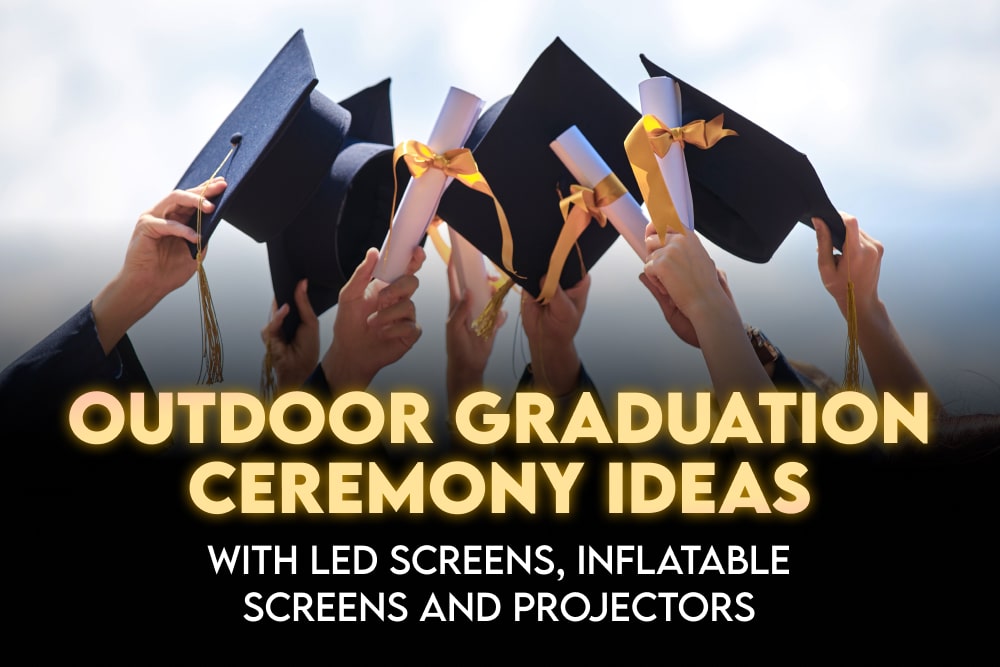 4 Unique Outdoor Graduation Ceremony
Below are five unique graduation ceremony ideas you can use to level up traditional rites. See which one suits your event best: 
1. LED wall stage backdrop
One way to make an outdoor graduation ceremony stand out is to utilize a giant LED wall stage background. It has excellent visibility even in the middle of a sunny day.
Also, LED walls have a more commanding presence than tarpaulins or static displays. You can even use it to show the names and photos of the students as they are being called onstage.
Aside from that, LED walls allow you to display dynamic content. From the school logo, guest speaker profile, and so on, an LED display will make the graduation day stand out.
Another good thing about LED walls is they can be used day and night. It also remains visible even if the venue has a stage lighting setup.
For the best visual experience during the graduation ceremony, you should consider a stage rental and trusses rental to elevate the LED screen. 
2. Outdoor live feed to an LED screen
Does the outdoor venue have a limited capacity? If so, an outdoor live feed would be one of the graduation program ideas you should try.
This will allow family members and friends to witness the ceremony even if they can't enter the venue.
Moreover, you can set up the outdoor LED screen in the parking lot or right in front of the venue if possible. You can also choose a smaller venue to host a live feed of the graduation. 
3. Inflatable projector slide show
If you're looking for more unique graduation ideas, you can try an inflatable projector instead. This is a great idea for kids' graduation, where you can play a slideshow of pictures or videos of their school experience.
Aside from that, you can book a projector and screen rental for the post-ceremony party. In the daytime, the screen can be used for the ceremony, and in the evening, it can be utilized for a movie night graduation party.
For large graduations, it will be a great idea to put up multiple screens throughout the venue. This way, all the graduates and their guests can see what's happening on the main stage.
The best option here is mobile LED screens mounted on trailers. Unlike other LED walls, mobile types can be easily towed in and out of the venue. This will save planners a lot of time, money, and energy.
Fun Things To Do After Graduation Ceremony
The fun doesn't end after the ceremony! You can keep the celebration going by hosting an outdoor graduation party.
Whether it's a high school or college graduation, parties are the best way to cap years of hard work. Unlike indoor parties, outdoor parties have a certain vibe that makes them more fun and memorable.
If you're still looking for ideas, the following would be great options: 
An outdoor movie night would be a fun way for college graduates to cap their big day. It's a laidback celebration, and the graduates can catch up with each other before and after watching the movie.
If you want to make the experience more luxurious, you can design the movie night in a posh drive-in setup. The graduates can watch the movie from their cars while enjoying some snacks.
The good thing about outdoor movie nights is it appeals to all ages. It's a great way to celebrate all graduations, from grade school to college. You just have to pick the age-appropriate movie to complete the ensemble.
Aside from showing a movie, you can also take the chance to present a video montage of the graduates through the years. It's a touching idea that the graduates can share with their loved ones.
Lastly, outdoor movie nights can be held on the school grounds or at a separate venue. 
A pool party is a refreshing way to celebrate the end of the school year. It's an excellent choice for areas with warm weather where the graduates can enjoy themselves with their classmates, families, and friends.
You can also host pool party games to keep the experience fun. It can also be paired with a movie night at dusk while everyone enjoys a hearty snack.
Aside from that, you can set up a snack bar or dessert bar near the pool area to keep everyone full.
For large pool parties, you may need to rent out a private resort or pool. There's also an option to rent a community pool if the party is being held on a budget.
To make the pool party stand out, ensure you have the best audio equipment rentals.. You can play music or hire a DJ to add to the fun. 
A cocktail party is a sophisticated post-graduation celebration. It can be a black-tie event, speakeasy-style, or some other theme that the graduates like.
This type of celebration is usually best for college graduations. It can be held in a hotel ballroom, restaurant, or the school's event center.
Moreover, a cocktail party will allow graduates to mingle with their friends and batch mates. Depending on the theme, there can be a DIY bar to serve wine, beer, cocktails, and other drinks.
To make everyone won't forget the night, you should put up a photo booth. This way, everyone will have a fun souvenir from the party.
Also, you can set the party's ambiance with professional lighting rental. Any venue will look more sophisticated with the proper lighting setup. 
A graduation ball is a traditional event after the graduation ceremony. It's a formal event and often in a sit-down dinner style. It also includes dancing and formal attire.
This party is best for high school and college graduates. The theme, menu, and program can be personalized based on the age of the attendees.
When it comes to essentials, a graduation ball won't be complete without a red carpet experience. Make sure that you also have a step-and-repeat background that matches the theme.
Also, you can make the venue more sophisticated with pipe and drape rentals. You can use this to cover blank walls or serve as the stage's backdrop. You can also use this as stage decor for the graduation ceremony. 
Let the graduates let loose after years of hard work! With a karaoke party, everyone can sing their hearts out while having fun with friends, classmates, and loved ones.
To save you time, we have a karaoke machine rental with all-inclusive packages. Our packages include speakers, wireless microphones, a professional mixer, a flat-screen monitor on a stand, an iPad controller, and more. You can also add a photo booth so that everyone will have a souvenir from the party.
All our karaoke machines have 35,000+ songs to choose from. The graduates will have endless fun queuing up their favorite songs.
We can also customize your karaoke rental to suit the event's needs. Also, all our equipment is concert-quality, so the guests will have time to shine like superstars!
To ensure that the party will be glitch-free, we will send a tech team from start to finish. We will also handle the teardown and pickup of the equipment for a hassle-free rental.
Not fond of singing? Maybe the graduates would love a dance party! This is a big hit across ages, especially college graduates who want to let loose and have the best night before moving on to the next chapter.
For a successful dance graduation party, you should secure the best DJ equipment rental. You can also install a LED wall background on the DJ booth to give the venue a nightclub vibe.
This party can be held in the school social hall or a rented venue. What matters is that everyone will have fun with heart-thumping DJ music and delicious snacks.
You can also hire a live band or allow the graduates to have an intermission number during the party.
Unlike graduation balls or cocktail parties, dance parties are less formal. It's also less demanding in terms of attire and budget. 
For intimate graduation parties, a backyard gathering would be a perfect choice. This usually takes place on family properties where friends and families can celebrate graduation.
The good thing about backyard graduation parties is it has a home-like vibe. It can also be continued as a sleepover for a fun and memorable celebration.
You can personalize the setup as much as you want. You can hang a custom banner, set up a picnic, play yard games, host a movie night, etc.
If you don't have time to plan something unusual, you can stick to an intimate dinner under the stars.
Additional tips for planning a graduation ceremony
Planning a graduation ceremony or party is not an easy feat. It requires a lot of time and attention to ensure its success.
If you're an event planner or school personnel in charge of the big day, below are some tips that can help: 
First, you have to decide on the theme of the graduation. This can be voted on among the students to make sure that they will enjoy the occasion.
Most of the time, schools stick to their academic color and graduation rites. You can also insert modern touches like adding an LED wall as a background or setting up a live feed outside for guests who can't enter the venue. 
Planning a graduation ceremony will be easier if you have a committee to handle various tasks. You can involve the teachers, school administrators, and parents to ensure the occasion's success.
Make sure you delegate tasks and keep track of the progress on a weekly basis. This will let you plan the event from the ground up without doing everything on your own. 
Prepare for inclement weather
One of the biggest challenges with outdoor ceremonies is their heavy reliance on the weather. Ensure you check the weather forecast and prepare a backup in case the weather goes bad.
In some cases, event planners would have a backup indoor event if the weather is likely to become inclement. Some may reschedule if the initial date coincides with an undesirable weather forecast. 
Rental companies like Rent For Event get fully booked fast during graduation season. With this, make sure you book your needed audiovisual rentals months before the graduation date.
This will also allow you to avail of lower rates. Also, this will save you from the hassle of having no choice but to hire an inexperienced AV company at the last minute.
Aside from that, it's best to hire one company for all your audiovisual needs. This ensures that all your AV solutions are coordinated during graduation day. 
A rehearsal will help you spot problems before the actual date. These problems often involve audiovisual aspects, which must be corrected early on.
It will give the graduates a chance to know the flow of the program. This way, there will be less confusion on graduation day, especially if there are hundreds of graduates. 
Communicate with the graduates and their families
Everyone involved in the graduation must know the deadlines, important dates, program flow, and other details. You can create a social media page for this or utilize email or school newsletters to disseminate the information.
To be sure, re-send a reminder at least two to three days before the graduation day. This prevents any problems, especially if the planning has started months early.
If there are sudden changes, especially on the dates and venue, ensure that all graduates and their families are informed immediately. 
Graduations are the pride and joy of every family, so expect the graduates to bring more guests than what's allowed them to. You must assign ushers outside the venue to keep the crowd organized.
Also, consider setting up seats and tents outside to accommodate other guests that won't make it inside the venue. And to keep them involved, you should set up a live feed on an LED wall, so they can still watch their loved ones march onstage. 
Plan for a post-ceremony celebration
A post-ceremony celebration will allow the graduates and their families to celebrate together. You can choose from the ideas we listed above, depending on the preference of the graduates. It can be a simple dinner, a cocktail party, or a full-fledged ball.
This can be scheduled on a different day or after the ceremony to serve as a reception. It's important to involve the teachers, graduates, and their families in making the best choice. 
Graduations are formal occasions, so avoid going overboard with the colors and installations. Most of the time, schools use their logo colors and opt for a simple stage setup.
Make sure that the decoration and overall setup reflect the school and the achievements of the graduating class. 
Emergencies happen even in well-planned events. With this, you must prepare a first-aid kit and a first-aid team to respond in case of any unforeseen incidents.
Also, consider having backup AV equipment in case the first one in place fails or experiences glitches. It's always best to have a backup plan, especially at large graduation ceremonies. 
Graduation ceremonies can be really long, especially in a large school graduation. This is why you should prepare some snacks and refreshments for the guests. You can also distribute refreshments to the graduates after the ceremony. 
Let's make your graduation ideas come to life!
Do you want to host a memorable graduation day? Whether you're an event planner or a school administrator, Rent For Event is here to help!
We are an experienced audiovisual production and AV rental company ready to take graduation ceremonies to a new level. Our team will also be your partner in hosting a post-ceremony celebration.
As a full-service AV company, we are your one-stop provider for all things audiovisual. Our licensed engineers and elite AV team will handle everything from start to finish. You can focus on other important matters at the graduation while we take care of all your technical needs.
Call us today for a free estimate! We will customize all your rentals to ensure that it matches your event needs. We've worked with hundreds of graduations, and rest assured the graduates will find their ceremony memorable!