Are you planning the spookiest Halloween movie night ever? While kids do trick-or-treat, adults can also have an epic movie party of their own.
The spooky season is just around the corner and many are starting to come up with their own Halloween ideas. Movie nights have always been a crowd favorite, whether during Halloween or days before.
If you're still looking for Halloween party ideas, you're at the right place. Below, we listed our tried and tested Halloween hacks that will make one unforgettable movie night.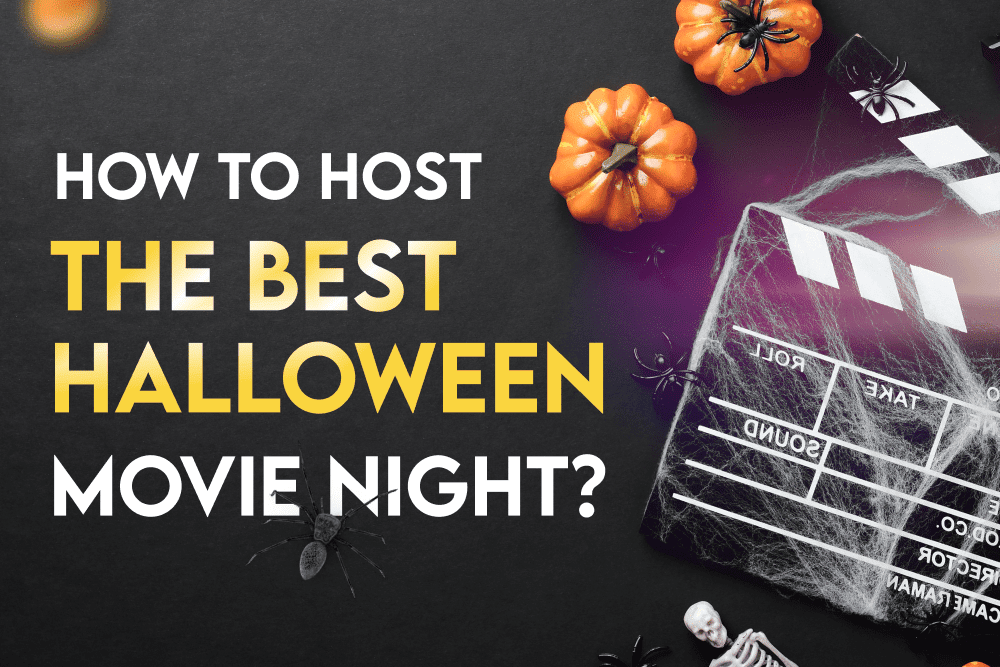 1. Pick a movie night theme
Halloween-themed movie nights never go out of style. For this year, you can pick a theme such as 'Ghost Bash', 'Murder Mystery', 'Haunted House', and more. You and your guests can also dress up with creepy costumes and makeup!
You can also pick the theme based on the horror movie you're going to watch. And to make the night more fun, you can also pick the "scariest dressed guest" together with a special prize.
Make sure that you include this on your movie night invitation. This will surely hype up your guests and make them look forward to Halloween. 
2. Select the perfect movie
Is it even a Halloween movie night without the scariest flick? It's best to have a lineup of at least three movies to watch. Realistically, most movie marathons will last around three movies.
You have to be very picky with the movies. You should match the films to the age group of your guests, much so if it's a family movie night.
For ages 6 and up, some of the kid-friendly classics are Nightmare Before Christmas, Hocus Pocus, and Casper.
For adults who want nightmare-inducing movie nights, flicks like The Conjuring, The Visit, The Curse of La Llorona, and Incantation are the latest rage. Feel free to add your favorite Halloween movie to the mix.
Streaming platforms like Netflix, HBO Max, Amazon Prime, and Hulu will surely offer a lot of options. Always pick your movies before Halloween night, so you won't spend the entire time doom scrolling.
If you don't know what your guests will like, you can create a poll. The scary movie with the highest votes will be streamed on Halloween night. 
3. Set up the best movie experience
If you want the best Halloween movie experience, you should put a premium on the viewing experience. Don't limit yourself on a TV screen, especially if you're going to have many guests over.
Consider a LED screen for the best movie experience. Our LED walls here at Rent For Event have top-notch visibility from all angles.
We can also customize the size and pixel pitch to give you the best movie night experience. Also, our LED walls are perfect for both indoor and outdoor movies.
You can also try a projector and projection screen. We pair every movie projector with a large inflatable screen, perfect for outdoor movie watching. No one will miss any scary moments!
Aside from that, you should consider renting quality speakers for a more immersive horror movie experience. Your guests will hear all the screams and eerie sound effects.
4. Set the mood with lighting
Lighting can create a creepy atmosphere for your Halloween movie night. You can rent uplighting, mood lights, flicker bulbs, fake flames, string lights, and more. Our lighting engineers here at Rent For Event can design a scary lighting system for your movie night.
You can also place lighting on your demonic jack-o-lanterns, guest entrance, and throughout the venue. Simply tell us your vision and our creative team will give you the most unforgettable Halloween lighting.
We can also use projectors and floodlights to create an ambiance in your movie night venue. Our team can turn plain walls into a mystical display that matches your theme.
The sky's the limit when it comes to Halloween lighting. Whether it's indoor or outdoor, there's a lighting system that will make your movie night pop. 
Playing creepy music as your guests arrive will set the mood for your Halloween night. You can play classic organ tunes or screams that will keep your guests on their toes.
You can stream hundreds of Halloween music online for free. It's so easy because there are pre-made playlists that suit the age, theme, and vibe of your movie night. You can stream on YouTube, Spotify, or any platform that you like.
To make the creepy music scarier, you can rent speakers from us. We can create a surround sound atmosphere, so your guests will feel like the screams are real! 
6. Decorate like grim death
One of the thrills of Halloween is getting to show your creative side. Make sure that you decorate your movie night venue based on your theme.
Don't forget the essentials: jack-o-lanterns, fake spider webs, skeletons, witch hats, skulls, fake bats, hanging ghosts, and Halloween banners.
You can be as wickedly creative as you'd like. You can also integrate lighting with your decorations. Simply tell our team and they will make it happen for your movie night. 
Scary doesn't mean hungry! While you're busy looking for party ideas, you shouldn't forget about Halloween treats either!
Spooky food is a big hit during Halloween for both kids and adults. You can make 'bloody' cupcakes, Halloween candy bags, creepy popcorn, and more. A Halloween piñata is also a great idea!
And while you're at it, you should also purchase Halloween-themed plates, cups, and baskets. We can also provide popcorn cart rentals to complete your movie night experience.
Be creative and match the menu with your Halloween theme. You can also take inspiration from the movies lined up for the night. 
Halloween movie snacks aren't complete without a spooky drink concoction. This is the perfect time to unleash your Bloody Mary-making skills with a twist. You can add small amounts of dry ice to give the drinks a smoky and witch-like vibe.
This will be a big hit for kids and adults alike. But for grown-ups, an added drizzle of booze will surely keep the night going.
For kids, you can make jello shots, creepy milk glasses, and Halloween punches. Gummy worms and spider candies are also enjoyable additions.
Here are more Halloween bevvy ideas you can make: 
"Live Blood" IV bag sips
Skull ice cubes
Butterbeer
Green gelatin shots
Chocolate web cocktail
Mr. Hyde Potion (made of vodka)
9. Get the 'Halloween scent'
Light up some pumpkin and cinnamon candles to make your movie night cozy. Paired with lighting and creepy music, you'll engage all your guests' senses. If you don't want to risk it with an actual flame, you can use a diffuser instead. 
Here are other Halloween scent ideas you can try. You can concoct your scent mix like a wicked witch!
Zesty orange
Baked apple
Cinnamon and apple
Dark plum
Sandalwood
Caramel
Cheesecake
Ground coffee
10. Set up a Halloween photo booth
Whether it's a laidback or wild Halloween movie night, a photo booth is a must! This will give your guests a souvenir from the event.
Rent For Event also provides photo booth services. Tell us your theme and we will create custom backdrops, props, and graphics.
Our selfie booth rental will let your guests enjoy unlimited Halloween snaps. All the photos are instantly shareable online aside from physical photo strips. 
Let's give you the creeps!
Are you ready to host a Halloween movie night party? With Rent For Event, you can throw the best Halloween party on the block!
We will deliver complete audiovisual solutions to bring your spooky ideas to life. Our team will also create custom lighting, display, and sound systems to give goosebumps to your guests.
No more boring Halloween movie nights. Call us and we will ensure that your guests will look forward to your next Halloween party. We will make you see and feel the difference – even the ghosts will be impressed!